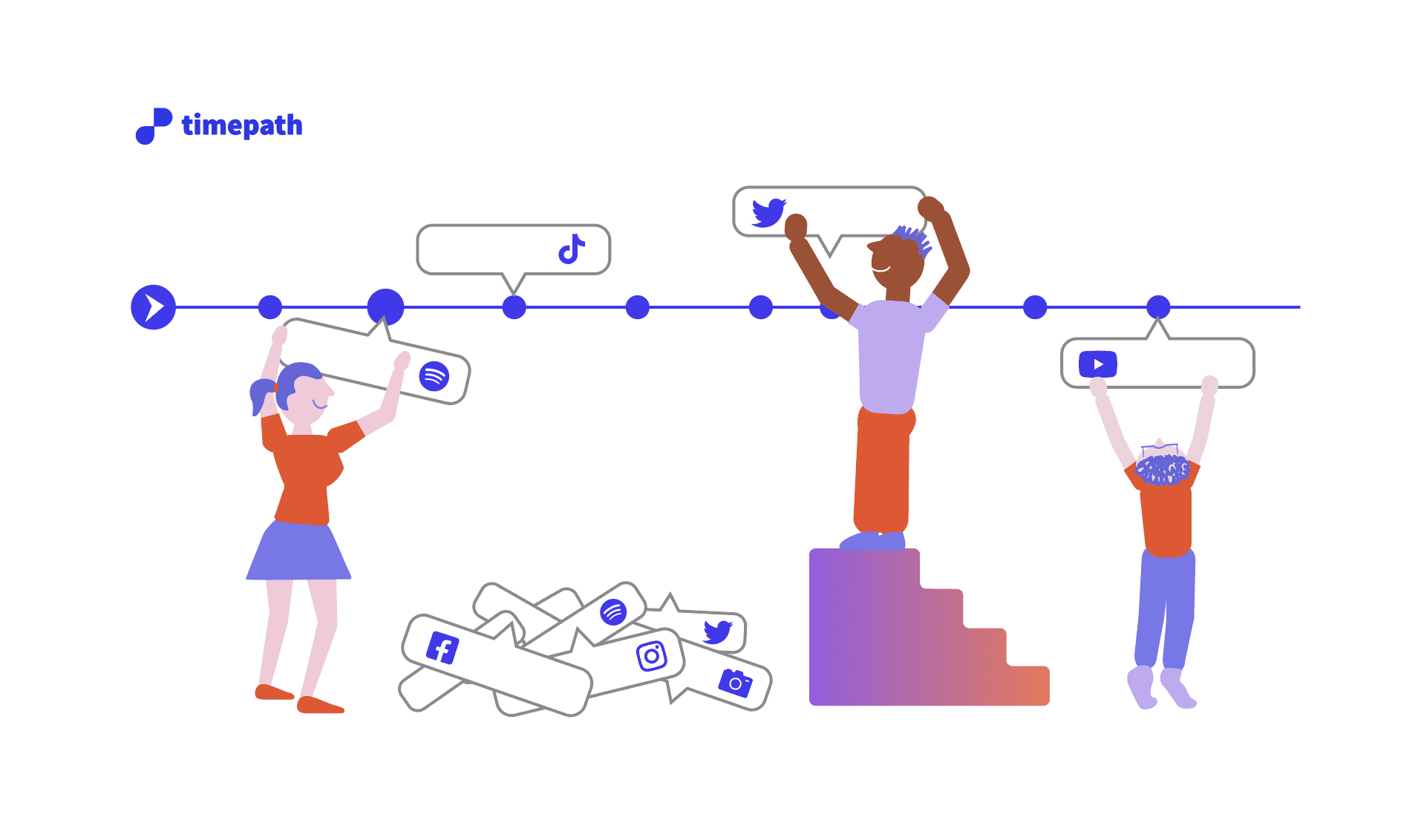 Inspiration. As bloggers and journalists, we constantly seek inspiration in order to succeed in our craft. We want to blow readers away with something extraordinary - a fantastic, never-told-before story, an intriguing blog post concept, or a new way of work that captures attention. We want our words to change the world. Yet, as writers with so much expectation, we struggle. We struggle with finding inspiration; we struggle to keep it in our grasp - it seems as if it's all been said and done. What can we write about? Where do we find the inspiration? Well, this is where Timepath comes in. In this article, we're going to walk you through the Timepath platform, diving into who we are, and exactly how to create a timeline on our stage. But first, what exactly is a timeline?
---
What is a Timeline?
A timeline refers to the presentation of a chronological sequence of events based along a drawn line. It enables a viewer to understand temporal relationships easily and quickly. When you create a timeline, you provide yourself with a way to document any type of development, with the ultimate goal of helping viewers to understand past and ongoing trends.
---
What Is Timepath?
Timepath is a beautiful way to tell a story. It's the ultimate timeline maker tool that helps you build magnificent timelines online, and even provides you with the ability to embed them within your news article, blog post, or website. Truly the perfect timeline creator tool to enrich your articles with a nice timeline widget. With our online timeline maker, you are able to import anything. Blog Posts, Youtube movies, Facebook posts, Instagram posts, or Tweets. You can select a timeline template that fits your needs, or use our customize feature that allows you to blend your timeline in with the design of your website, article, or blog post. We give you the freedom of creativity as you work to adjust colors, fonts and even upload your own timeline cover image. Check out just some of our other excellent features:
Private or public timeline - Each timeline can be set to private or public, depending on your needs. You can even list your timeline in our discover directory.
Google loves timelines - When you set your timeline to public, your timeline will be indexed by Google and drive organic traffic. Build authority by creating a timeline on Timepath.
Timeline templates - Choose different timeline templates that suit your needs. We have timeline templates for news articles, blog posts, company websites, or personal websites.
So, how do you think your readers would feel about being immersed in an exciting narrative? One that will allow them to escape reality, and enter a new world? Believe it or not, science proves that stories stimulate our brain so much, that they even change the way we live and perceive things. They're an effective way to transport information and values from one individual to the next, and if you manage to hit the emotions through story-telling, it's usually more compelling and engages more of the brain; thus, it's better remembered. Whether your story-telling timeline speaks to its readers about specific events, topics, companies, or a person - with Timepath, we give you the power to grow your business.
---
How to Create a Timeline in 7-steps
Step 1 - Click on ''Create a Timeline''
Things are just so much better when they're free, right? Click on ''create a timeline'' and start creating your first timeline entirely for free!
Step 2 - The Story Begins, Let's Build Your Timeline!
We feel it's best when we build personal relationships with our clients. Let us know your name; we want to get to know you! When you're done, click ''next'' and provide us with the title of your timeline, along with a capturing description.
Step 3 - Seek Inspiration from Timeline Templates
Here at Timepath, we give you the inspiration you need to succeed. With the power to never have to start from a blank canvas, you can choose a timeline template that suits you. Choose from a blog post, news article, website, or timepath template. Once you find a timeline template that suits you best, just tap or click on it, then click ''next''. Watch your ideas come to life as you design your original timeline with pure expression. Our editable timeline templates come with all the tools you need to write in style. Select a customizable timeline template, and see just how easy it is as creativity flows within.
Step 4 - Create a Free Account!
Sign up for a Timepath free account, and go ahead and click ''create a timeline story''.
Step 5 - Choose a Beautiful Image
You can now edit the featured image by clicking the pencil in the top right corner. Choose a photo you like, hit the upload button, then click ''add image''.
Step 5 - Start to Add Events!
This is where the magic happens. You're now presented with the ability to remix this timeline to make it your own. Click ''add new event'', come up with a short and catchy title, choose the date on which your story begins, and start writing.
Step 6 - Amp Up the Flair
The freedom to add personality and extra flair is yours when you create a timeline with Timepath. Within each event, choose from a wide range of media like photos, Youtube videos, article links, Twitter, Spotify, or even Instagram in just one click. We've taken care of all the boring technical stuff so you can focus on bringing your design to life through your message and style. For some extra inspiration, check out just some of our many timelines:
Step 7 - Save, Share, or Embed Your Timeline
When your timeline template is filled out with all of the necessary information and graphics, hit that ''share'' button. By default, your timeline story is in private mode. If you wish to publish or embed your timeline story, you can set your timeline to public. If you choose public mode - congratulations! Your timeline story has been published! Spread the word and share directly on your favorite platform. Use the ''share link'' provided, post directly to Facebook, Twitter, or Linkedin, or copy the provided code and embed it into your website, blogpost, or article. Timepath saves your designs, so you can always revisit your project if you need to update it in the future.
---
Let Timepath be your timeline design specialist
Now that you're the ultimate timeline creator, you can hone your creativity with the power of Timepath. Explore our professionally designed templates to get your inspiration wheels spinning, and use photos, icons, logos, or personalized fonts to enhance your design with authenticity. Need more than just one timeline? Go pro! Check out our pricing, and be well on your way to an unlimited amount of creativity.