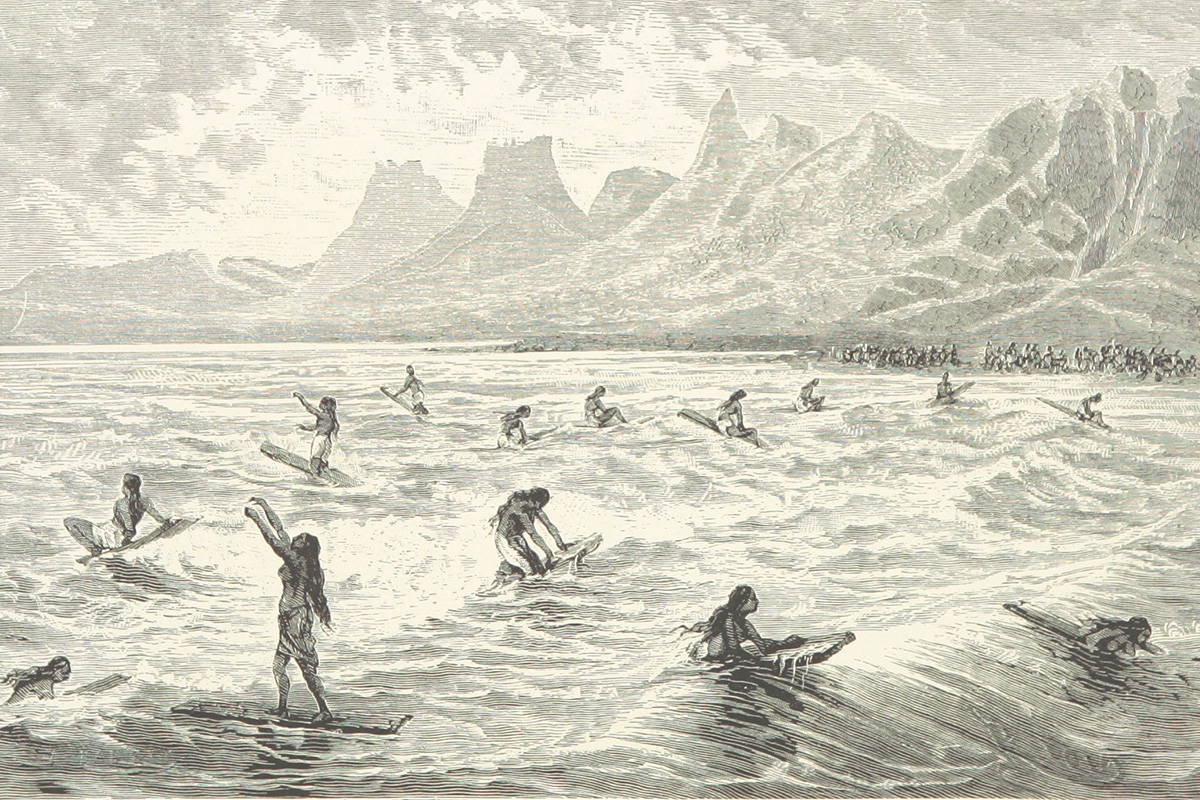 History of surfing
Surfing has a richer and deeper background than you might think. This Timepath will show you how surfing started and how it evolved up to now. Powered by surf-escape.com
First documentation of surfing
The first documentation of surfing was done by a surgeon Joseph Banks on the ship of Captain James Cook in 1777.
Surfing was a central part of ancient Polynesian culture and predates European contact. The chief (Ali'i) was traditionally the most skilled wave rider in the community with the best board made from the best wood.
The ancient Hawaiians had mainly three types of board: Olo, Alaia, and Paipo. The Olo was 15 to 20 feet long and solid wood.
When Americans came to Hawaii, they didn't think much of surfing. They even discouraged it.
https://www.surfertoday.com
Surfing almost died due to illnesses
Surfing almost died when European and American diseases came to Hawaii the population decreased enormously. By that time there were hardly any surfers left. At that time only 40.000 people were living in Hawaii from a pre-contact population of 800.000.
1907 George Freeth came to California and did surfing demonstrations
But in 1907 a guy called George Freeth came to California and did some surfing demonstrations at Huntington Beach. And in 1914 Duke Kahanamoku (The Duke) made his way to Australia and New Zealand. And everybody got enthusiastic about surfing in this region.
Tommy Walker returned to Manly Beach Australia
In 1910, Tommy Walker returned to Manly Beach, Sydney, with a 10 ft surfboard "bought at Waikiki Beach, Hawaii, for two dollars." Walker became an expert rider and in 1912 gave several exhibitions in Sydney.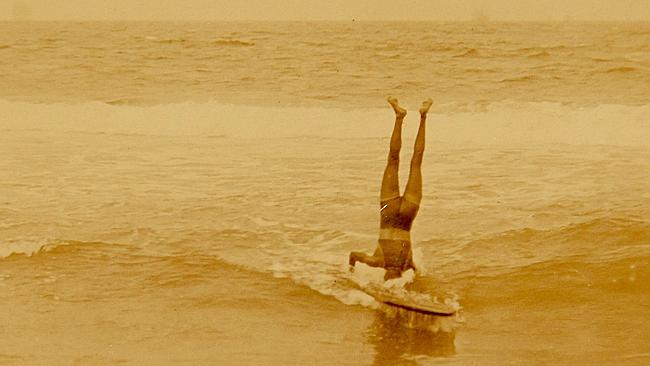 https://www.dailytelegraph.com.au/
Duke Kahanamoku
Olympic swimmer Duke Kahanamoku went to Australia en New Zealand. He surfed the Pacific Waves and was attracting audiences.
Alexendar Hume Ford first champion
Alexendar Hume Ford became the first champion in Hawaii. He came from California. He wanted to grow the sport and that Hawaii became part of the USA. Ford attracted white Americans while Hawaii was a fusion of al kind of people and backgrounds.
From 1959 Surfing got promoted
More and more Americans came to Hawaii and in 1959 Hawaii became a status of the United States. The Americans started to promote surfing.
First shortboard
From the early 1960's a huge evolution started due to the invention of the shortboard.
From the brainchild of Greenough and McTavish, a 1966 shortboard was crafted with the ability to change the way we surfed at that point of time.
https://www.disruptsports.com
First professional event
In 1975, professional contests started. Mark Richards set an early precedent by claiming four consecutive titles. In 1975 Margo Oberg became the first female professional surfer.
IPS becomes APS and surfing became more professional
Around early 80's the original IPS concept into the Association of Surfing Professionals. And surfing became a more professional sport worldwide, organizing surf events on great surf spots around the globe.
Tom Curren (from the USA) and Tom Carroll (from Australia) where one of the champions in the 80's. Check out the video below of Tom Curren making his pro debut in '82.
Kelly Slater came to the pitch
The 90's where dominated by young talent Kelly Slater. Becoming 6-times world champion in this decade. His first win was in France.
Kelly Slater is still considered the greatest surfer of all time. And is still competing.
Check out this look back on the 90's by Kelly Slater
Most successful female surfer in history: Layne Beachley
Layne Beachley from Australia is regarded as the most successful female surfer in history. Layne went on to win a 7th world title in 2006 before retiring from the ASP World Tour in 2008.
https://www.worldsurfleague.com
ASP became WSL
First artificial full sized wave pools
Surf Snowdonia in Great Britain (Wales) is the world's first full-sized surf pool powered by Wavegarden. With six-foot waves peel down the line for 20 seconds.
But honestly, there were wavepools for decades already. The first footage is from 1929 from a swimmingpool in Germany that provided waves. But that was just for swimming. Every decade from the 60's a surfpool popped up in some kind of dessert, like Big Surf, Walt Disney tried it, Sunway Lagoon, But not providing the quality waves that are delivered nowadays in different surfpools down the globe.
One of the newest is Alaia Bay in the heart of the Alps in Switzerland.
Biggest wave ever surfed
Garreth McNamara was the first to set the world record for the biggest wave ever surfed at Nazaré in Portugal (2011). Below see you the mindblowing footage of that moment.
In 2017, Rodrigo 'Koxa' Augusto do Espírito Santo, a Brazilian professional big wave surfer and extreme waterman, broke this world record. Again at Nazaré, in November 8, 2017.
2021 Surfing debut at the Olympic Games
In 2021, after postponing the Olympics for a year due to Corona surfing made it's debut at the Olympic Games in Tokyo.
Carissa More (USA) won gold at the womens final
Italo Ferreira (Brazil) won gold at the mens final